| | | |
| --- | --- | --- |
| | The Sir Edmund Hillary Mountain Legacy Medal | |
All Medalists

Schmitz & Hawley (2003)

Byers (2006)

Freake (2008)

MacLennan (2010)

Ang Rita (2011)

Bisht (2013)

Ives (2015)

Portocarrero (2016)
Report from the Presentation Ceremony
Dr. Johan Reinhard to receive Sir Edmund Hillary Mountain Legacy Medal
Medal will be presented at the International Mountain Museum in Pokhara on December 11, 2017.
Press release from Mountain Legacy
Johan Reinhard will be honored with the Hillary Medal
Anthropologist and archaeologist Dr. Johan Reinhard has been selected to receive the Sir Edmund Hillary Mountain Legacy Medal for remarkable service in the conservation of culture and nature in mountainous regions.
The award will be presented at the Mountain Museum in Pokhara, Nepal, on December 11 (International Mountain Day) during Nepal's annual Mountain Festival.
Dr. Reinhard is a National Geographic Explorer, Senior Fellow with The Mountain Institute, and Research Professor with Future Generations University. He has published groundbreaking research on sacred landscapes, notably relating to Tibetan Buddhist beyul (hidden valleys that helped form the basis of the Shangri-La legend), Himalayan shamanism, sacred lakes of the Aztecs and Incas, and mountain-top Inca burials.
Dr. Kumar Mainali, president of Mountain Legacy, notes that the Medal both recognizes Sir Edmund Hillary's own service on behalf of mountain people and their environment and also encourages the continuing emulation of Hillary's example.
Mainali adds that a key aspect of the Hillary Model is the conviction that our universal thirst for adventure can be fed by challenging projects of mountain research, conservation, and development. Recreation and stewardship should be two sides of the same coin. The life and career of Dr. Johan Reinhard perfectly embody that principle.
Like Sir Edmund, Reinhard is a world-class adventurer, with hundreds of ascents in the Andes and around the world. A native of New Lenox, Illinois, Reinhard participated in the successful American Bicentennial Everest Expedition of 1976. He conducted underwater excavations, crossed the Indian Thar desert on camel, participated in free-fall skydiving, holds a world record for high-altitude scuba diving, and notched first rafting descents of rivers including the Trisuli in Nepal.
Like Sir Edmund, also, Johan segued from a pursuit of adrenaline to a deeper interest in ancient landscapes and cultures. He is best known for his discovery of the pre-Columbian Ice Maiden mummy in 1996, but he has also offered explanations of some of South America's greatest enigmas, including Machu Picchu, Tiahuanaco, and the Nazca Lines, enormous images (geoglyphs) formed in the Nazca Desert of Peru (which others guessed might be messages from extraterrestrial visitors), either are sacred paths leading to places from which rituals were performed to the surrounding water and mountain deities for water and the fertility of crops and animals, while the figures of plants and animals were formed to invoke water and fertility. In the 1960s and 1970s Reinhard conducted research with the last of the hunting and gathering peoples who first populated the rugged hills of western Nepal, and compiled studies of their vanishing languages, as well as providing the scholarly rationale for policies protecting their interests. He is currently following up on his research with one of those groups, the Raji of Nepal.
Johan Reinhard's contributions have not gone unnoticed. Museums have been built in three countries to exhibit the archaeological discoveries made during Reinhard's expeditions. Time Magazine has twice selected his finds as among the world's ten most important scientific discoveries. Ford Motor Company recognized Reinhard as one of twelve Heroes for the Planet; he was awarded the Explorers Club Medal, the Rolex Award for Enterprise, and the Puma de Oro, Bolivia's highest award for archaeological research. The Mountain Institute has issued a statement applauding his selection for the Mountain Legacy medal:
[We] are thrilled that Dr. Reinhard is receiving this much-deserved honor. Johan's remarkable discoveries in the Himalayas and Andes are a treasured legacy not only for indigenous mountain communities but for all of us who care deeply about the world's mountain regions. His dedication and deep interest in understanding and preserving mountain cultures have inspired many and continue to guide modern stewardship of mountain areas. We are so proud that another mountain leader associated with our Institute has won this prestigious medal. Like [Hillary medalists] Ang Rita Sherpa and Dr. Alton Byers before him, we consider Dr. Reinhard as more than an Institute senior fellow: he is a true mountain-hero-in-residence.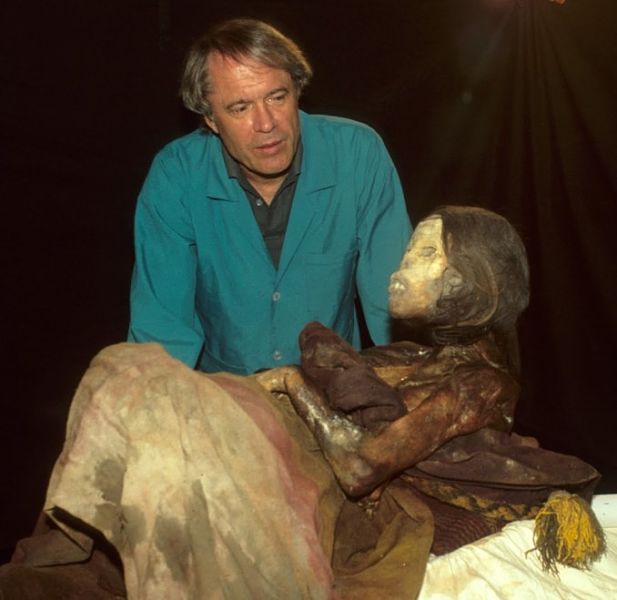 Above: Reinhard with Ampato Maiden
Letter of Nomination for Dr. Johan Reinhard

Dear Dr. Sicroff:
With this letter I would like to nominate Johan Reinhard, high-altitude archaeologist and anthropologist, for the 2018 Sir Edmund Hillary Mountain Legacy Medal. Reinhard is best known for his discovery of the Ice Maiden, the frozen body of a young Inca girl that was sacrificed to the Inca gods on Mount Ampato in southern Peru in the late 15th century. The subsequent National Geographic article was ranked by readers as the best of the year and one of the best of the decade. The complete body of his work to preserve mountain cultures and environments, however, spans six continents and as many decades.
Much of Reinhard's work is research of the sacred beliefs and cultural practices of mountain peoples and on preserving the cultural patrimony of indigenous peoples in the Andes and Himalayas. As a PhD student at the University of Vienna in Austria, he worked in western Nepal with individuals on the fringe of society. He conducted some of the first studies of the Raute and the Raji, two of the last nomadic hunter-gatherer tribes on the planet. He also researched "sacred portals" in Tibetan Buddhism and Hinduism, personally exploring many of them. It was during this time that he became an acquaintance of Sir Edmund Hillary himself.
In the early 1980s, Reinhard turned his attention to the mysterious Nazca Lines in the deserts of Southern Peru. He published evidence that the lines and figures were associated with the worship of mountains and water sources that are central to Nazca culture. The lines, he theorized, were sacred paths leading to places where these deities could be worshipped. In the late 1980s, he directed the first Andean underwater archaeological research project in Lake Titicaca, the world's highest navigable lake. He was instrumental in establishing the Gold Museum on the lake's Sun Island which houses many of the finds recovered during the project.
In the 1990s, he led the world's highest archaeological expedition on Llullaillaco (6,379 m) in Peru, discovering three perfectly preserved Incan mummies. Along with other nearby sites in the Andes, his team discovered eighteen mummies (including the Ice Maiden), four Incan human sacrifices, and over sixty high-altitude Inca ritual sites. Time named this accomplishment among "the world's ten most important scientific discoveries" for both 1995 and 1999.
In addition to his recognition by Time, Reinhard has received numerous other accolades throughout his career. In 1987 he was awarded the Rolex Award for Enterprise, in 2000 he was named one of Outside magazine's twenty-five most extraordinary explorers, in 2001 Ford Motor Company named him one of twelve Heroes for the Planet, and in 2002 he received the Explorers Club's Explorers Medal. His work has been funded by the National Geographic Society, the National Endowment for the Humanities, the Institute of Humanistic Studies, the American Alpine Club, and the Austrian Academy of Sciences, among many others. He has authored over seventy publications (including six books), been featured in a number of documentaries, was a member of the successful 1976 American Everest expedition, and has numerous first ascents of mountains and first descents of rivers to his credit (some of which were featured in the 1997 Guinness Book of Records).
Reinhard is currently a National Geographic Explorer and Senior Fellow with The Mountain Institute, positions which he has held for twenty and thirty years, respectively. He is currently conducting follow-up research with the Raji of Nepal. Since his early studies, their original homeland has been turned into Royal Bardiya National Park and they have been displaced from the region. More information is available from his website, http://www.johanreinhard.net/.
Reinhard is simultaneously one of the most humble and accomplished explorers of his generation. With the help of this recognition, his work and its impact promises to continue for years to come. I recommend him for the Sir Edmund Hillary Mountain Legacy Medal without reservation.
Sincerely,
Jeff DeBellis
Program Officer, Future Generations Graduate School
Former Course Director, The Mountain Institute
Colleagues Respond to News of Dr. Reinhard's Selection
Reaction to the selection of Dr. Johan Reinhard to receive the Sir Edmund Hillary Mountain Legacy Medal have been coming in. If you wish to add a message of congratulations, please email the SEHMLM Project Director at sicroff@hillarymedal.org.
Dr. Meeta S. Pradhan, Himalayan Program Director, The Mountain Institute
On behalf of The Himalayan Program of The Mountain Institute in Nepal, I would like to congratulate Dr. Reinhard on being awarded the Sir Edmund Hillary Mountain Legacy Medal. We are proud and really honored that yet another mountain leader who is associated with our organization has become a recipient of this medal. Dr. Reinhard's work with the last of the nomadic hunter-gatherer tribes in the western hills of Nepal – the Raute and the Raji – have helped to bring continued attention on these marginalized groups, whose practices and beliefs are fast being impacted by the overall social, economic and political changes going on within the country and globally. Additionally, he has done important work on the Tibetan Buddhist beyuls - the sacred hidden valleys in the lap of the Himalayas that contributed to the Shangri-La legend. His continuing deep interest and commitment to understanding and sharing mountain cultures will be an important legacy for coming generations. We look forward to meeting and congratulating Dr. Reinhard in person when he comes to Nepal to receive this award.
-
Dr. Jorge Recharte, Andes Program Director, The Mountain Institute. We recommend Dr. Recharte's article published, in the Washington Post on Dec. 6: "These indigenous communities are models for how to adapt to climate change"
The Mountain Institute in Peru salutes Dr. Reinhard on being awarded the Sir Edmund Hillary Mountain Legacy Medal. Dr. Reinhard's relentless exploration of high-peaks in the Himalaya and Andes resulted in one of the most materially significant discoveries, which has offered a glimpse of how indigenous cultures in the Andes connected with Mountain Deities through the offering of sacrifices. The Andean cultures left no written record of their history. That is why Dr. Reinhard's sustained exploration efforts over the course of decades have contributed in such important ways to our understanding of Inca society and its world view. It is a true privilege to have him as a Mountain Institute Senior Fellow.
Ing. César Portocarrero, Peruvian hydrologist and engineer, and himself a recipient of the Hillary Medal:
I very much wish to give an opinion about the nomination of Dr. Johan Reinhard to receive the Sir Edmund Hillary Mountain Legacy Medal, 2018. On the occasion of the nomination of Dr. Johan Reinhard to receive the Sir Edmund Hillary Mountain Legacy Medal and after learning about the extraordinary career of Dr. Reinhard, I must say with absolute sincerity that this year's medal has a well-deserved winner. The research projects he has carried out in the Andes of South America have shown us extremely interesting results that have made us know the ancestral customs of our ancestors especially the Incas and how they worshiped certain types of mountains, including human offerings.
But not only Dr. Reinhard has developed his activities in the archaeological subject but also in other activities related to ancestral customs of indigenous people in several countries of the planet.
I welcome the appointment of Dr. Reinhard for the Sir Edmund Hillary medal and I believe that the medal will be in good hands. Congratulations, Dr. Johan Reinhard, and on some occasion that you return to Peru I would like to have the honor of greeting you.
---
Con mucho agrado deseo dar una opinión acerca de la nominación del Dr. Johan Reinhard para recibir the Sir Edmund Hillary Mountain Legacy Medal, 2018. Cán motivo de la nominación del Dr. Johan Reinhard para recibir the Sir Edmund Hillary Mountain Legacy Medal y luego de conocer la extraordinaria trayectoria del Dr. Reinhard debo decir con absoluta sinceridad que la medalla del presente año tiene un bien merecido ganador. Los proyectos de investigación que ha realizado en los Andes de Sudamérica nos han mostrado resultados sumamente interesantes que nos han hecho conocer las costumbres ancestrales de nuestros antepasados especialmente Incas y cómo ellos rendían culto a cierto tipo de montañas dejando en ellas ofrendas humanas inclusive.
Pero no solamente el Dr. Reinhard ha desarrollado sus actividades en el tema arqueológico sino también en otras acitividades relacionadas con costumbres ancestrales de pueblos autóctonos en varios países del planeta.
Saludo el nombramiento del Dr. Reinhard para la medalla Sir Edmund Hillary y estimo que la medalla se encontrará en buenas manos. Felicitaciones, Dr. Johan Reinhard, y en alguna oportunidad que usted regrese al Perú me gustaría tener el honor de saludarlo.

All Medalists

Schmitz & Hawley (2003)

Byers (2006)

Freake (2008)

MacLennan (2010)

Ang Rita (2011)

Bisht (2013)

Ives (2015)

Portocarrero (2016)

Home

Update

Nominations

Medalists

Mountain Legacy

Collaborate

Sitemap

Contact

Please Support the Sir Edmund Hillary Mountain Legacy Medal