Anthony Freake Wins 2008 Hillary Medal
British national Mr. Anthony John Freake of Norfolk, England (UK), has been awarded the 2008 Sir Edmund Hillary Mountain Legacy Medal for "remarkable service in conservation of culture and nature in remote mountainous regions." Tony Freake is the founder and director of the non-profit Phortse Community Project (PCP). The medal was presented by Peter Hillary at a ceremony in Tengboche Monastery (Khumbu, Nepal) on May 29, 20008. [ More ]
Mountain Legacy is soliciting contributions to the Hillary Medal Endowment Fund, so that we may provide a stipend that will in some measure assist the winner's projects as well as honor his achievements. If you would like to make a donation either monetary or in kind, please contact Beau Beza at beza@hillarymedal.org. Contributions will be recognized appropriately.
In May 2008 we celebrated the 55th anniversary of an event that captured the imagination as few adventures have before or since: an expedition led by Sir John Hunt culminated in the first ascent of Mt. Everest by Sir Edmund Hillary and Tenzing Norgay.
Surprisingly, an event that has been etched in our collective consciousness as the nec plus ultra of human endeavor gave rise to an achievement of far greater importance. Sir Edmund found in his Himalayan adventure and his subsequent celebrity the inspiration and the opportunity to "return the favor" by assisting the people who were his comrades on that climb, and by helping to protect their beautiful homeland. Through his personal efforts, and through the foundations that he helped found in New Zealand, Canada, the United States, and Germany, Sir Edmund founded some 30 schools, two airstrips, two hospitals, and 11 village clinics. He has assisted in the restoration of monasteries, instituted scholarship and teacher training programs, and established reforestation projects in Khumbu, Mustang, and the Annapurna region. In every case, Sir Edmund has undertaken projects at the specific request of the local residents.
In recognition of Sir Edmund's heroic efforts and in the hope of encouraging others to emulate his example, Mountain Legacy established in 2003 the "Sir Edmund Hillary Mountain Legacy Medal," to be awarded "for remarkable service in the conservation of culture and nature in remote mountainous regions."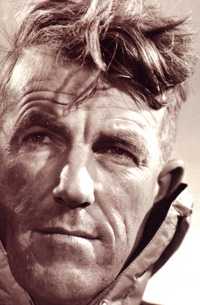 1919 - 2008
"I don't know if I particularly want to be remembered for anything. I have enjoyed great satisfaction from my climb of Everest and my trips to the poles. But there's no doubt, either, that my most worthwhile things have been the building of schools and medical clinics. That has given me more satisfaction than a footprint on a mountain."

The Sir Edmund Hillary Mountain Legacy Medal is a project of Mountain Legacy and is sponsored by the Environment and Planning Program, The Royal Melbourne Institute of Technology University.
---
World Expeditions is proud to be a major sponsor of the Sir Edmund Hillary Mountain Legacy Medal. The 2008 Hillary Medal will be presented to the winner on a unique World Expeditions 55th Everest Anniversary Trek in the Himalaya, in May 2008. World Expeditions applauds the good work this Medal represents in supporting and assisting the welfare of mountain people and continuing Sir Edmund Hillary's humanitarian projects.