| | | |
| --- | --- | --- |
| | The Sir Edmund Hillary Mountain Legacy Medal | |
The Making of the Hillary Medal
The Hillary Medal design is based on the story of the creation of eight hidden valleys by the tantric saint Padmasambhava (a.k.a. Guru Rinpoche), who brought Buddhism to Tibet more than 1000 years ago. These valleys were to serve as dharma sanctuaries in future times of trouble. Khumbu was one such beyul. Rolwaling, to the west of Khumbu, the most conservative and least impacted of the known sacred valleys in Nepal, got its name from the word "furrow": apparently Guru Rinpoche carved out the valley with one pass of his plow.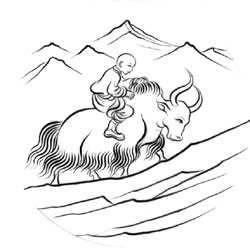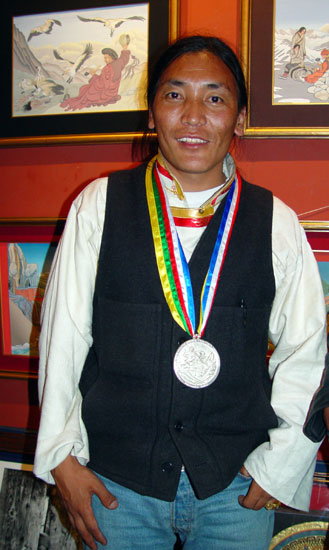 The artist who designed the Hillary Medal: Tenzin Nurbu Lama of Dolpo, Nepal, at a fundraising exhibit of his paintings held at Lotus Gallery (Thamel, Kathmandu) in April, 2003. Tenzin Nurbu has received international acclaim for his artwork in Eric Valli's film Caravan (or Himalaya). He has recently collaborated in the initiation of a school for artists in his native village in Dolpo. Contact Tenzen Nurbu: tenzennurbulama@hotmail.com or, c/o Lotus Gallery: Santosh Gupta or Jim Aplington; J.P. Road, Thamel, Kathmandu; Tel: 4253646; email: jimaplington@yahoo.com or lotusgallery2001@yahoo.com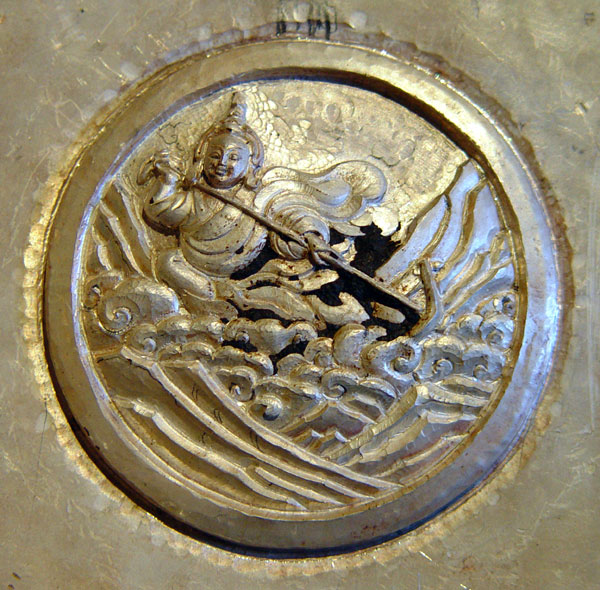 Work in progress. The wax seen here is used to hold the silver in place while it is hammered.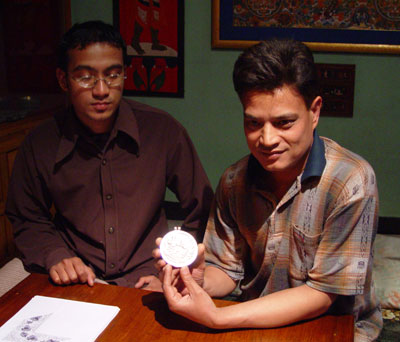 Raj and Rajin Shakya, father and son. These skilled silversmiths created the medal, as well as the presentation box. Contact Lumbini Art: Lagankhel, Patan, Nepal; Tel: 5531214; Email: lumbiniraj@hotmail.com