| | | |
| --- | --- | --- |
| | The Sir Edmund Hillary Mountain Legacy Medal | |
All Medalists

2015 Presentation

Schmitz & Hawley (2003)

Byers (2006)

Freake (2008)

MacLennan (2010)

Ang Rita (2011)

Bisht (2013)

Portocarrero (2017)
Background of SEHMLM talk at presentation

ICIMOD Knowledge Forum featuring Portocarrero

Additional photos of SEHMLM presentation at Hotel Tibet International

Presentation of 2017 Sir Edmund Hillary Mountain Legacy Medal
Ceremony timed to coincide with International Mountain Day
On December 11, 2016, the Honorable Rabindra Prasad Adhikari presented the eighth edition of the Sir Edmund Hillary Mountain Legacy Medal to Peruvian engineer César A. Portocarerro Rodríguez. The ceremony took place at the Hotel Tibet International in Bouddha, Kathmandu.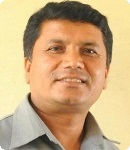 Hon. Rabindra Prasad Adhikari
(CPM-UML) represents Kaski-3 in Nepal's Parliament and chairs the national Development Committee.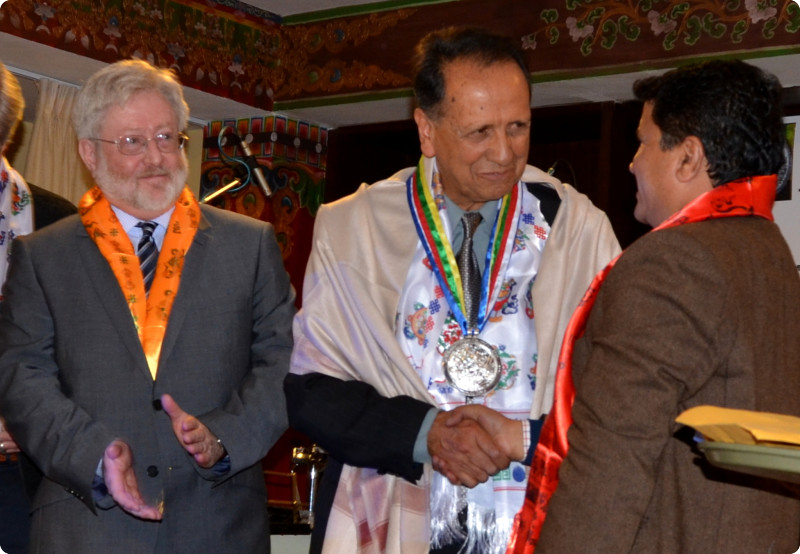 Congratulatory message from
Dr. Kumar P. Mainali,
Mountain Legacy President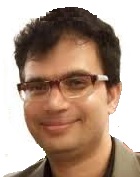 On behalf of the Mountain Legacy Board of Directors and the SEHMLM Selection Committee, I congratulate Ing. César Portocarrero on his investiture with the 2017 Sir Edmund Hillary Mountain Legacy Medal.
In according Mr. Portocarrero this honor, we recognize his decades of work designing and implementing projects to protect the lives and livelihoods of his countrymen in Peru, and also his collaborative work with international agencies -- including International Center for Integrated Mountain Development (ICIMOD), the US Agency for Internation Development (USAID), the United Nations Development Program (UNDP), The Mountain Institute (TMI), and the High Mountains Adaptation Partnership (HiMAP). By sharing his expertise, Mr. Portocarrero has endowed his work with a multiplier effect. This scientific comradeship, and Mr. Portocarrero's great joy in mountain environments and love for mountain communities, are critically important aspects of the mountain stewardship that we celebrate as the legacy of Sir Edmund Hillary.
I would like to thank the many individuals and agencies who have honored César, Sir Edmund, and future generations of mountain heroes by participating in this celebration.
The luminaries assembled to honor the Mr. Portocarrero for his ground-breaking efforts to mitigate hazards from glacial lake outburst floods (GLOFs) included Mr. Toshio Yadomi, first secretary of the Japanese Embassy to Nepal; Dr. Dhananjay Regmi (Himalayan Research Expeditions and Toyota of Nepal), who implemented the recent hazard mitigation project at Imja Tsho in Khumbu; Dr. John Reynolds (Reynolds International), the world's leading specialist in geophysical hazard assessments and mitigation and the man credited with safely lowering the level of Tsho Rolpa in Rolwaling; and Dr. David Molden, Director General of the International Center for Integrated Mountain Development (ICIMOD), the principal international agency dedicated to mountain research and development consultancy.
Also present were Ang Tsering Sherpa, president of the Nepal Mountaineering Association; Maya Sherpa, president of Everest Summiteers Association; and Ang Rita Sherpa, winner of the 2011 Sir Edmund Hillary Mountain Legacy Medal.
Numerous mountain stakeholders participated in the proceedings, including representatives of Friends Service Council Nepal; Handicap International; Himalayan Rescue Association; Hotel Associations of Nepal; Khumjung Youth Club; Khunde Community Club; Monyo Basic School, National Adaptation Plan - Ministry of Population and Environment; Restaurant and Bar Association of Nepal (REBAN);, Rotary Clup of New Road, Kathmandu; Sherwi Yondhen Tshokpa; Trekking Agencies' Association of Nepal; and Yambu Thamichho Kydug.
Many educational institutions were represented, including Birendra Sainek Awasiya Mahavidyalaya; Everest College; Janapremi College; Newton International College; Sann International College; Texas International College; the Central Departments of Botany and Zoology at Tribhuwan University.
Commercial stakeholders in mountain stewardship were also on hand. These include Himalayan Research Expeditions; Outware Treks and Expeditions; Marushin Shitaka; and Sherpa Adventure Gear.
In addition, there were friends and associates of Mountain Legacy members, including Lhundrup Tsering Yutok (Seth's collaborator and Tibetan teacher, going back to 1974), Dil Krishna Malla and his daughters Sushma and Babeera, who ran a teahouse-lodge in Singate (directly in the path of any outburst flood from Tsho Rolpa) where several expeditions of Bridges-PRTD took lodging as early as 1999.
Mountain Legacy board member Mr. Debendra Karki (Central Department of Botany, Tribhuvan University) served as Master of Ceremonies for the evening. Dr. Seth Sicroff, speaking for Mountain Legacy president Dr. Kumar P. Mainali (University of Maryland), gave a synopsis of the history and significance of the Hillary Medal. Dr. John Reynolds, a longtime friend and collaborator of the honoree, spoke about the importance of Mr. Portocarrero's work in the context of geophysical contingencies. Dr. David Molden placed that importance in the context of global development and stewardship priorities. Debendra Karki presented César with a hand-carved wooden-framed brass certifcate, and Mr. Rabindra Adhikari presented him with the Sir Edmund Hillary Mountain Legacy Medal itself.
Following High Tea, Dr. Molden presided over a rooftop ceremony commemorating the reopening of nearby Boudhanath Stupa as emblematic of the resilience and heroism shown in Nepal's response to the earthquakes of 2015. The Heartbreakers, a local rock band, provided musical entertainment and dancing continued till late evening.
On December 12, Ing. Portocarrero presided over a Knowledge Forum at ICIMOD's new compound in Khumaltar, sharing lessons learned from GLOF mitigation efforts in Peru.
Acknowledgements
The success of this SEHMLM presentation event was due to the efforts and support of many people.
The Steering Committee, led by Dr. Dhananjay Regmi and Debendra Karki, with the collaboration of Ram Raj Rijal, Seth Sicroff, Jyoti Mainali, and Jony Mainali, worked intensively for many weeks, meeting at Dr. Regmi's Lainpur office. This was preceded by months of online work by a wide network of Mountain Legacy collaborators, including Dr. Teiji Watanabe (Hokkaido University), Dr. Jack D. Ives (Carleton University, Ottawa, and Dr. Kumar Mainali (University of Maryland, USA).
A much wider network of friends in Kathmandu provided vital assistance in specific areas, including Ms Bhagvati Joshi and Sita Rupakheti of Rotary Club, New Road, Kathmandu City, who arranged for us to engage Sunil Tuladhar and his rock band, The Heartbreakers; Raj and Rajin Shakya of Lumbini Art executed the medal, according to the design provided by Tenzin Norbu.
Financial and in-kind support came from our sponsors: Jesse Thé of Environmental News Network, the leading service for environmental press releases; Dhananjay Regmi of Himalayan Research Expeditions, organizer of scientific research expeditions; John Reynolds of Reynolds International, world leader in geophysical site investigation and geohazard mitigation; Dr. Jack D. Ives, eminent montologist and author; Nadine LeMoine; Barry Hughes; and Sunrise Pashmina, exporter of hand-loomed pashmina accessories from Nepal.
Mountain Legacy is particularly grateful to Mr. Sunil Kapali (Food and Beverage Manager) and the gracious staff of Hotel Tibet International for making this Hillary Medal presentation ceremony an enjoyable and memorable event.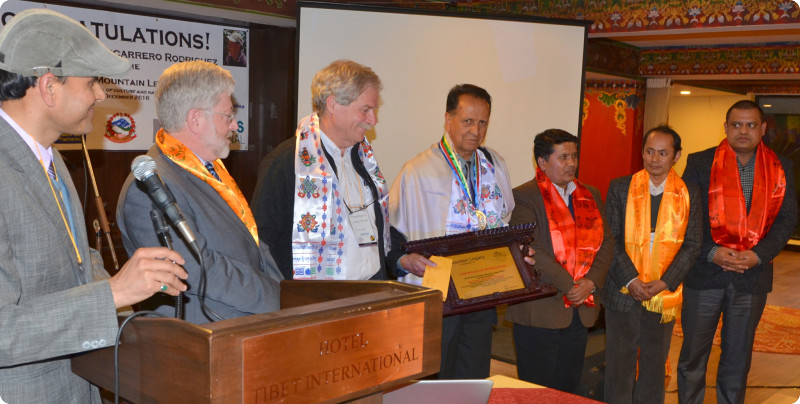 Above: Ing. César Portocarrero receives brass certificate of appreciation in traditional hand-carved window-style frame.
From left: Debendra Karki (SEHMLM presentation event organizer), John Reynolds (Reynolds International), Dr. David Molden (ICIMOD), César Portocarrero, Rabindra Adhikari (Development Committee), Toshio Yadomi (Japanese Embassy), Dr. Dhananjay Regmi (Himalayan Research Expeditions).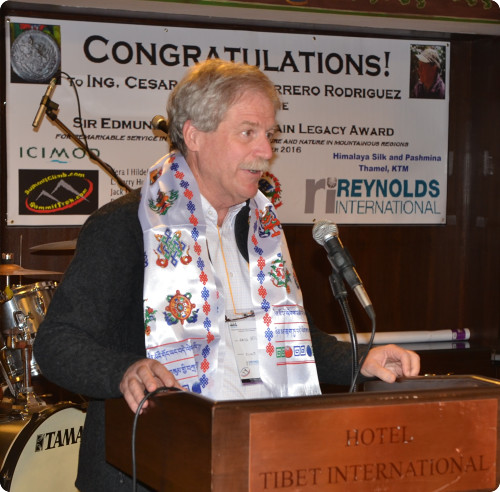 Dr. David Molden, Director General of ICIMOD, delivered keynote remarks at the presentation and presided over a rooftop ceremony overlooking the newly reopened Boudhanath Stupa.
César Portocarrero with Tenzin Nurbu, designer of the Hillary Medal, and geophysicist Dr. John Reynolds


Ms Jyoti Mainali (left) and Ms Joni Mainali (right) are members of the Sir Edmund Hillary Mountain Legacy Medal Selection Committee and served as event organizers. At center, Ing. César Portocarrero and Dr. Seth Sicroff, director of the SEHMLM project. At rear, The Heartbreakers.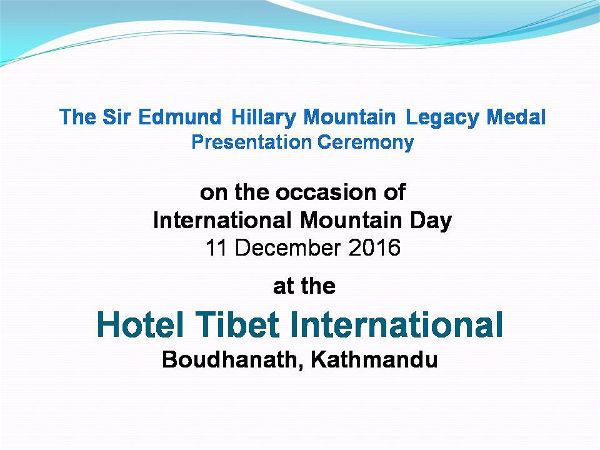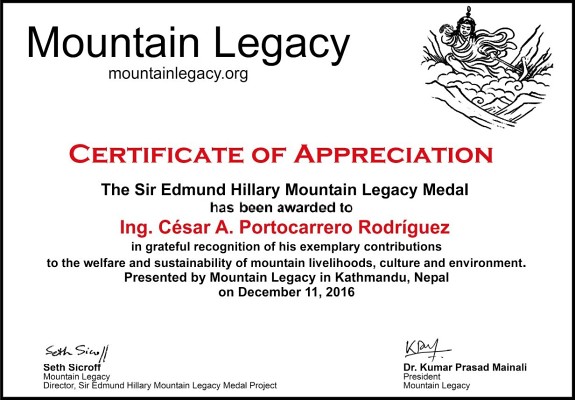 Above, left: Dr. Sicroff's entire slide show can be viewed here. Above, right: text of inscription on plaque presented to César Portocarrero.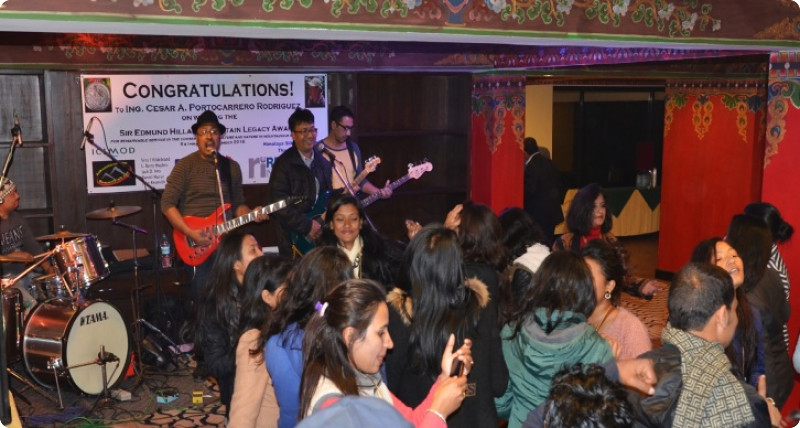 Entertainment was provided by The Heartbreakers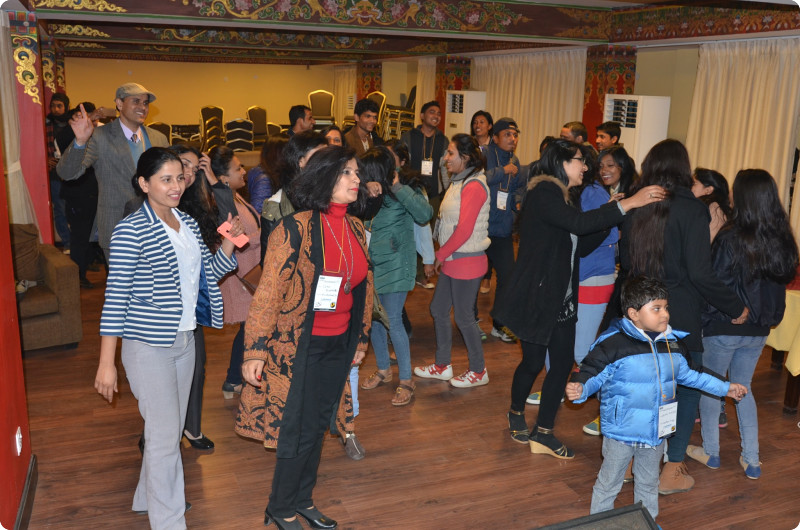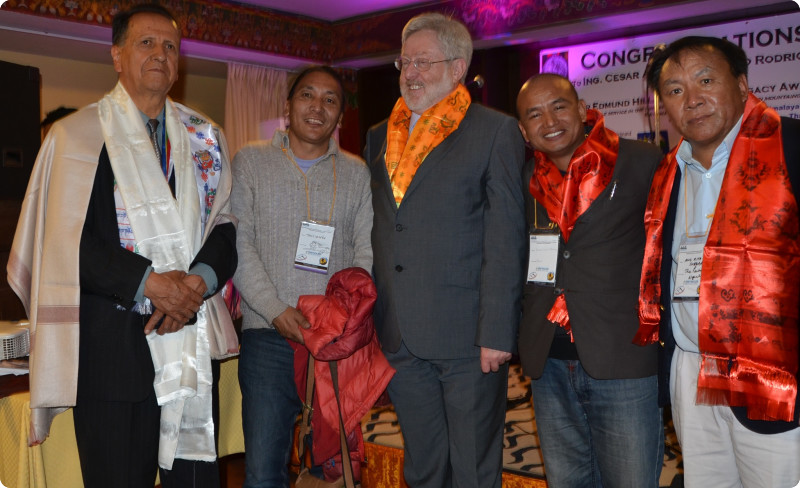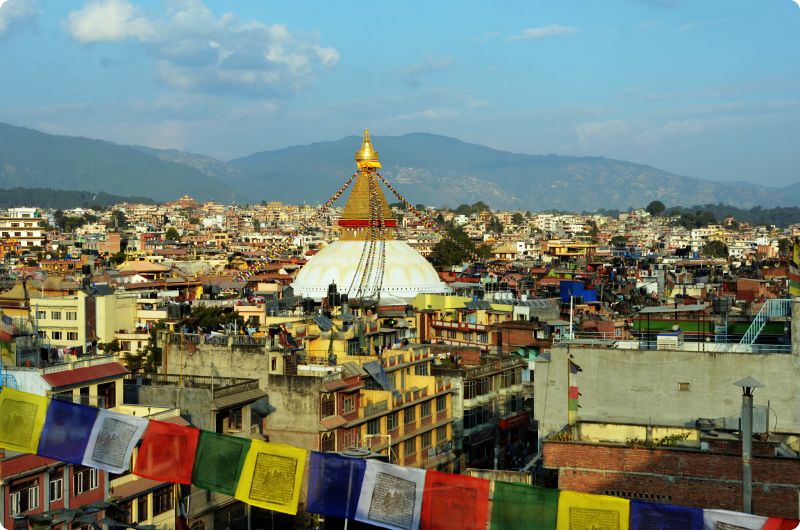 Newly restored Boudhanath stupa, from the rooftop terrace of Hotel Tibet International