| | | |
| --- | --- | --- |
| | The Sir Edmund Hillary Mountain Legacy Medal | |
Presentation of 2013 Hillary Medal
All Medalists

Schmitz & Hawley (2003)

Byers (2006)

Freake (2008)

MacLennan (2010)

Ang Rita (2011)

Bisht (2013)

Ives (2015)

Portocarrero (2017)
Hillary Medal Presentation Invitation [pdf]

Background of Hillary Medal [pdf]

Hillary Medal Presentation program [pdf]

Photos of Morning Press Interviews at the Radisson

Mountain Power Workshop Breakfast at the Radisson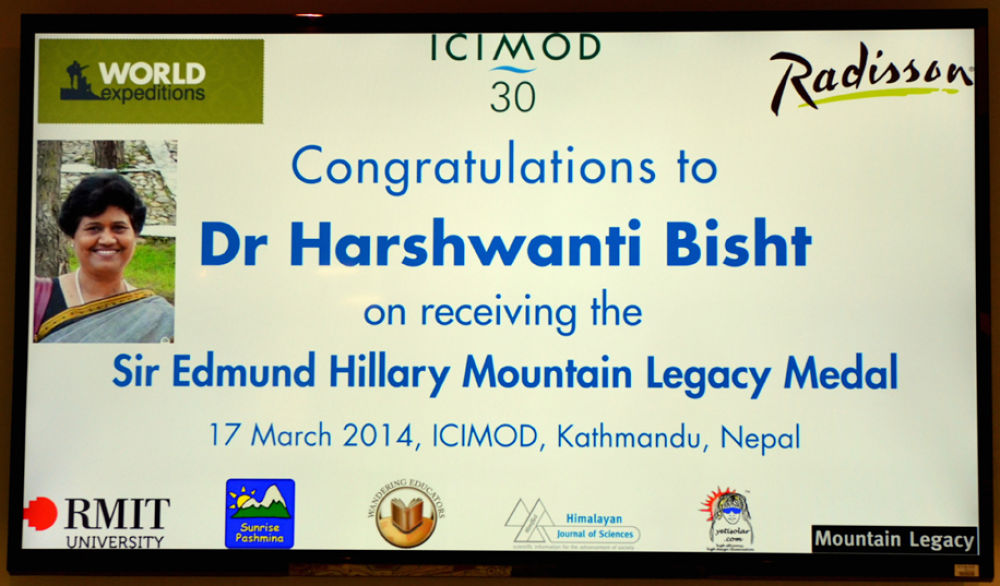 On March 17, 2014, Peter Hillary presented the sixth Sir Edmund Hillary Mountain Legacy Medal to Dr. Harshwanti Bisht.
Above, the illuminated marquee at ICIMOD headquarters, Kathmandu, where the Medal was presented.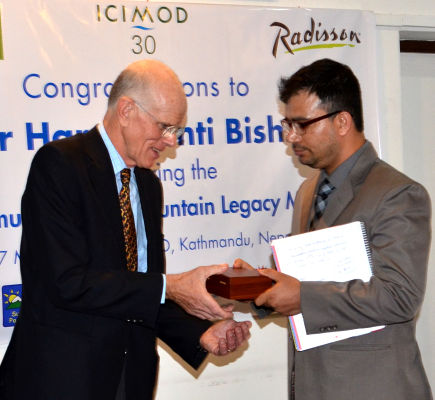 Kumar P. Mainali, President of Mountain Legacy, hands over the Sir Edmund Hillary Mountain Legacy Medal to Peter Hillary.
Welcoming Remarks by Kumar Mainali
My name is Kumar Mainali, and I am the editor of Himalayan Journal of Sciences and the president of Mountain Legacy, a small Nepalese NGO one of whose projects is the Sir Edmund Hillary Mountain Legacy Medal. Both the medal and the Hillary Model of development that it celebrates are essentially expressions of appreciation and gratitude, so before I speak about them, I would like to say a few words of gratitude to our collaborators and sponsors.
Hillary Medal Presentation video, Part One. Remarks by Kumar Mainali, President of Mountain Legacy
First of all, I want to thank you all, whom I count among our collaborators. Specifically speaking about this event today, I would like to thank ICIMOD, particularly the director general Dr David Molden, for hosting this program, and for sponsoring the High Tea. Many of the staff at ICIMOD, including Nira Gurung, Sudas Sharma, Anja Rasmussen, Dharma Maharjan, Subasana Shrestha, and Prerna Thapa helped in the preparation of this program. Our special guests include Dr. Gabriel Campbell, former director general of ICIMOD. Tenzin Norbu, world famous artist, who was kind enough to design our medal. Sue Badyari, CEO of World Expeditions, has helped for years with guidance and generous financial support; Sarah Hunt, also from World Expeditions, has provided extensive logistical support. Uma Khakurel, from World Expeditions' Kathmandu partner Highland Excursions, assisted in logistics and arranged for the exceedingly generous contributions of the Radisson Hotel.
Some of our past medalists are here with us today. Scott MacLennan, director of The Mountain Fund, has founded multiple clinics in remote mountainous areas of Nepal, a hospital, an orphanage for AIDs children, a women's leadership training program, and on and on. [Note: Scott MacLennan was actually unable to attend, due to the breakdown of his car outside Kathmandu Valley.] Ang Rita Sherpa of The Mountain Institute received the 2011 Hillary Medal for projects in inhabited protected areas of mountains in Nepal, Central Asia, and South America.
I want to thank two people who weren't able to be here tonight. First, Dr Beau Beza, professor at Royal Melbourne Institute of Technology University, chair of Hillary Medal Selection Committee. Dr Beza's role in managing the selection of medal recipients and the presentation ceremonies has been supported by RMIT University since 2003. Speaking personally, I want to specially thank Dr. Jack Ives who has been our mentor for many years. Our sister organization Himalayan Association for the Advancement of Science published two of Jack's most recent books: Himalayan Perceptions and Sustainable Mountain Development: Getting the Facts Right.
I will conclude by presenting someone who needs no introduction: Director General of ICIMOD, Dr David Molden.
Welcome to ICIMOD!
Remarks by ICIMOD Director General Dr. David Molden
I'd like to welcome all of you to ICIMOD headquarters. It's a great honor for ICIMOD to be hosting this very special event and to present the Sir Edmund Hillary Mountain Legacy Medal. [Text continued below video link]
Hillary Medal Presentation video, Part Two. Dr. David Molden's welcoming remarks.
ICIMOD, by the way, is the International Center for Integrated Mountain Development. We're a knowledge-learning and knowledge-sharing and -enabling center for what we call the Hindu Kush Himalayan region. Basically we have eight countries, clear from Afghanistan to Myanmar: that's Afghanistan, Pakistan, Nepal, Bhutan, India, China, Bangladesh, and Myanmar. Our mission is to enable sustainable and resilient mountain development, and our vision is that men, women and children of the Hindu Kush Himalayas enjoy an improved livelihood and a healthy environment.

We generate and share knowledge about how people adapt to climate change (and all kinds of changes), taking a community-based approach. We work on conservation of landscapes, often working between countries. In this very room we have meetings almost twice a week where we get people from our different member countries, places like India, China, Nepal, discussing issues of mountains together. So it really is a regional collaboration here.

We do a lot of work on the cryosphere, answering some of the bigger questions about what's happening to the glaciers, what's happening to our snow and ice and to our water resources, especially with climate change. We have a program where we work with remote sensing and GIS to fill in some of the big data gaps that we see in this region, and finally we have what we call a Himalayan university consortium where we focus on capacity building for students in the region. Our work is all very much about knowledge sharing and regional collaboration.

Let me also use this occasion to introduce another initiative of ICIMOD to promote Women, Gender, and Environment in Mountains (WGEM). It's a Web-based database of women experts from this region and beyond. I think it's a wonderful opportunity that we have a fantastic woman leader here to inspire us in that direction. So if anybody is interested, please contact us for more information.

We're certainly honored to have Dr. Harshwanti Bisht with us tonight. She is a recognized leader and certainly an inspiration to us all. An accomplished mountaineer, she was amongst the first three women to summit the main peak of Nanda Devi, and her valuable contributions to the Gangotri area in Uttarakhand are highly recognized. I'm pleased to welcome you, Dr. Bisht, to ICIMOD, now and in the future, and I congratulate you on this award.

Dr. David Molden, Director General of the International Center for Integrated Mountain Development, host of the Hillary Medal presentation event.

The Hillary Model behind the Hillary Medal
Remarks by Kumar P. Mainali
The Sir Edmund Hillary Mountain Legacy Medal is a project of Mountain Legacy, a Nepalese NGO. Both the NGO and medal were initiated by unanimous resolution of the 2003 Namche Conference: Parks, People and Mountain Tourism. The Hillary Medal was fully authorized by Sir Edmund, and the selection process is administered by the Environment and Planning Program at The Royal Melbourne Institute of Technology University, in cooperation with Peter Hillary.
Hillary Medal Presentation video, Part Three. Kumar Mainali speaks about the Hillary Model of development behind the Hillary Medal
We all know the story of Sir John Hunt's expedition in 1953, which placed two climbers at the summit of the highest point on Earth. The triumph of this team, and particularly of the two climbers who happened to complete the mission, stands as a culminating achievement in human exploration of our planet. However, for us, what is of far greater significance is the model of development that Edmund Hillary pioneered after that climb. For centuries, the model of development had been largely one-sided: whether colonial, evangelical, or ostensibly philanthropic, the developer would unilaterally push an agenda conceived without input from the impacted communities. Because stakeholders were not integrated into the project at the outset, planners failed to understand or respect the needs and complex constraints of the intended beneficiaries of the donor's largesse.
Unlike earlier versions of international philanthropy, Hillary's work was inspired by gratitude towards the individuals and communities that helped him in the climb as well as an appreciation of the extraordinary ecosystem that he was fortunate enough to visit in a pristine state. This motivation immediately precluded top-down development strategies. Sir Edmund's sense of gratitude and responsibility made him want to return the favor, with what became a remarkably ambitious and successful range of projects. The Hillary model of development naturally emphasizes the human dimension. This model integrates communities and ecosystems in mountain development. The broader focus makes development projects more likely to succeed and cheaper to implement because it invests ownership and responsibility in the communities.
The Hillary Medal both recognizes Sir Edmund's life-long commitment to the welfare of mountain people and their environment and also encourages the continuing emulation of his example. Sir Edmund's expression of gratitude to the Sherpa people has had important repercussions far beyond the projects he initiated. Sir Edmund has inspired many of us to undertake Hillary-style development in gratitude to the communities and ecosystems that have made possible our own recreation and adventure opportunities, and we all hope our own work will inspire further efforts by others. Gratitude and recognition are key to the sustainability and proliferation of these efforts, and Mountain Legacy is constituted in order to sustain Sir Edmund's legacy by awarding the Sir Edmund Hillary Mountain Legacy Medal to a representative handful of his successors. We present this award to those individuals in recognition for their remarkable service in conservation of culture and nature in mountainous regions. But in so doing we also honor the type of work they engaged in, which is now undertaken by so many of us in the development community.
The recipients of the medal since 2003 represent a group of extraordinary people who have contributed towards the welfare of mountainous people and their environment. Our medal recipients' contributions are briefly mentioned in the handout. These recipients are diverse in their expertise, scope, geographic relevance of their service, and they have uniquely contributed towards the remote Himalayan communities and environments. However, they all overlap when it comes to their approach: understand the local stakeholders, connect to them, protect their homelands. They all share a deep realization that life exists with the consent of environment. In her book Tourism in the Garhwal Himalaya, Dr. Harshwanti Bisht: Mountains are sacred because they possess beauty and they inspire mankind to meditate and grow spiritually. I believe that the result of that meditation, the spiritual growth Dr. Bisht refers to, is the appreciation of universal connectedness, and the understanding that our gratitude for this beauty must lead us to stewardship and sharing of the bounty we enjoy.
Now I would like to present Mr Peter Hillary.
The Spirit of Ed Hillary: Expanding the Realm of Possibility
Speech by Peter Hillary
Thank you, Kumar. It's wonderful to be here, it's wonderful to see such a great group of people. And thank you, Dr. Molden, for letting us have this event right here.
Last year was the sixtieth anniversary of that first climb of Mt. Everest, and of course there were all sort of celebrations. I was over in London for a special event at the Royal Geographical Society, and while I was preparing to go there I found myself thinking about what was so special about that event, the first ascent of Mount Everest. I just want to read you a paragraph that I wrote about it.
While Ed Hillary and Tenzing Norgay just wanted to climb the mountain because no one had reached the summit, it never occurred to them that this daring climb into the physical and physiological unknown expanded the realm of possibility for every one of us down near sea level -- [not that Kathmandu is actually near see level, but we'll just let that go] -- the fact that we too could climb the world's highest mountain if we wanted to, and in the same way Neil Armstrong expanded our perception of what is possible by putting a bootprint on the moon. Now most of us will never climb Mt Everest or land on the moon... but we can! That is a giant leap in terms of what we think is possible, and now we know that there are few barriers to our capability given the skills, innovation, motivation, time, and teamwork. The truth is that we are all liberated by the successes of others, because their successes show that it can be done.
And I think that is what Ed Hillary and Tenzing Norgay did on that British expedition back there in 1953. But as it has been pointed out, very quickly my father very quickly sort of moved on... with other expeditions going to the South Pole, and many expeditions in the Himalayas, but he also began working with the local people up there around the foot of the mountain that had given him and Tenzing that great adventure.
Hillary Medal Presentation video, Part Four. Peter Hillary speaks about the legacy of his father
And you know what? It was never easy, even for a man of the stature of Ed Hillary, to raise money. So what he would do was resort to making little films, and I remember clearly -- and I think this illustrates the sort of man my father was -- we were making a short film to use around the various foundations around the world, and Mingma Tsering, my father and I were sitting on a large boulder on the outskirts of Khumjung village, the mountains out behind, and the idea was we would be talking about mountaineering -- the camera was at a steep angle to make it look as if we were high in the hills and talking about what we wanted to accomplish among the villages and foothills of the great mountain. And of course the cameras rolling, and this was all working, we've got ice axes, we were really looking the part, and around the corner came a group of people, a group of trekkers, and one of them looks up and we immediately assume that he's recognized the first man to climb Mt. Everest. And he goes, Excuse me, excuse me, um - we thought, yup, he's definitely recognized Ed Hillary, but I thought you might like to know -- and he's pointing straight at my father, who was just casually holding his ice ax, and he said, but REAL mountaineers don't hold their ice ax like that. Well, we thanked him for his observations, and he trekked on, and we were sort of sniggering with laughter a little bit because we knew that as he went down the trail he would inevitably be told who he had just given his mountaineering advice to. But what I rather liked about that was that Dad found it funny, too -- he didn't find it impudent or difficult to deal with. And it's because he had a genuine affection for the people he climbed with, and he wanted to make a difference.
And it started around the campfire, sitting with a group of local Nepalis, and he asked them, If there wass one thing I could do, what would it be? And the answer was, Would you build us a school? And I think that was a remarkable start. And that school building in Khumjung is still there, a little aluminium building, and the expeditions kept happening. They went on high altitude physiological research expeditions... they even looked for the yeti and they had Martin Pperkins from the United States involved, more climbing expeditions, and there were more petitions from local people. And over the years more than forty-two schools and hospitals were built in the Solu-Khumbu region. Richard Blum from the American Himalayan Foundation told me about a decade or so ago that the Ed Hillary approach for such programs had really become a model for all small successful programs -- lean, small, effective, with great people networks, and I think that's true. But just a few years ago, 2010, I was in Kathmandu, and I had breakfast with Dr. Mingma Gyalzen, over here, and we were having a wonderful breakfast, and I'll never forget, Dr. Mingma, when you said to me, Your father just kept coming to Nepal every year -- this man from the other side of the world, so far away, and he just kept on giving. And I greatly respect what you said and the emotion that you said it with, and the fact that you said that you would also be doing the same, and I really salute you and the programs that you run, and greatly appreciate the comments that you made about my father.
But I'm here now to go with a group from the Australian Himalayan Foundation. We're supporting a teacher training program in the Solu area, and so we're flying into Kangal in two days' time, and down into some quite remote villages, and we'll be actually going to see some of these programs in position in some of the schools. You know, the sixtieth anniversary at the RGS was an astonishing experience. The Queen and Prince Philip were there, we were given a series of presentations, the British do it absolutely on the knocker, at 8 pm precisely there was a knock at the door, everyone stood up, and in came Her Majesty the Queen followed by Prince Philip, and onto the stage with the various mountaineering speakers there from the Royal Geographical Society. And I shook the Queen's hand, and then I shook the hand of Prince Phillip. And you know how it is, you're sort of wondering what to say, and I said, You know, I could just imagine how much my father would have loved to be here for this event, and Prince Philip straightaway looked up in the air and he said, Oh well, he'll be around here somewhere. You know what? I think the spirit of Ed Hillary IS around here somewhere. I can feel it here. I can it with the various foundations, the various education programs that we're involved in, and in fact in the award that we're involved in here tonight. And perhaps rather appropriately a new film has come out about my father, Beyond the Edge, and we're hoping that it will be shown here in Kathmandu at some stage. It's about my father and his climb on Mt. Everest. It's in 3-D, certainly grabs the attention of the younger generation, and it utilizes the old 1953 footage with a whole lot of reenactments, mostly done in New Zealand, to fill in some of the gaps.
The Hillary Medal, and that's what we're here to present tonight, was inspired by Ed Hillary. It was inspired by the energy of a very energetic man, but I think a man with a lot of empathy, a lot of generosity -- he was certainly an extremely generous guy. And I'm very proud to say that the other recipients of the award have been a pretty remarkable group. As Kumar mentioned, we've had Michael Schmitz and Helen Cawley, Alton Byers, Papa Tony Freake, Scott MacLennan, and a very old friend of mine, Ang Rita Sherpa. And it's really a great pleasure for me tonight to present the recipient of the Hillary Medal for 2014, Dr. Harshwanti Bisht, from India.
[Note: Large parts of Dr. Bisht's address were delivered as commentary accompanying a slide show. Since the actual text of her remarks is hard to make sense of without the images, the text has been edited as necessary.]
Good evening. I'm honored to be here. I thank Peter Hillary, director of ICIMOD Dr. David Molden, Mountain Legacy officers, honorable guests, and august gathering. I've been asked to talk about what I'm doing in the area known as Gangotri-Gaumukh.
I was a mountaineer by chance. Originally I wanted to do research work in tourism, but somebody advised me. "If you really want to do tourism, mountain tourism, in your thesis, then you must go to the mountains first." So I signed up for a basic mountaineering course. I liked it very much. I took a second course, a third course, and this is how I got started. I took my first mountaineering course in 1978, and my last mountain climb was with the 1984 Indian Everest Expedition. In between I did small climbs in the Indian Himalayas: Baby Shedling, Black Peak, Teru, Gangotri, and my major summit, Nanda Devi. From 1981 to 1983 I attended Everest selection camps, and was chosen to join the Indian Everest expedition.
In 1984 I went to Everest, and I saw the great work of Sir Edmund Hillary. I was impressed. I liked his work, and also the way he was doing it. Hillary had climbed Mount Everest, and after that he felt like doing some work in that area, and that was how he got started. At the time, I was wondering what to do next, because I don't remain with one thing for a very long time. I keep on changing. I studied economics, completed my PhD, then got into tourism, and after tourism I took up mountain climbing. But the inspiration, the click, came from Sir Edmund Hillary's work in Solu-Khumbu region. I decided I must do something for the area where I had gotten into mountaineering. My training had all been in Gangotri, in the Uttarkashi region, where the Nehru Institute of Mountaineering is located; so I thought why don't I do something for that area?
Gangotri is 450 kilometers from Delhi, and from there it is an 18-kilometer trek to the snout of Gangotri glacier, which is known as Gaumukh; this is the source of the river Bhagirathi, one of the two major tributaries of the holy Ganges.
Why do people come to Gangotri? There is the temple of the Bhagirathi River itself, and a beautiful pond known as Gauri Kund. Gauri is another name for Parvathi, wife of Shiva; she is said to have created the god Ganesh as she bathed in this pond. The area is known for its lovely flora, fauna, glaciers, and mountain peaks. The colors of Gauri Kund, the leaves, the boulders, the water, change with each season. So these are the attractions for both the tourists and the pilgrims. Pilgrims have been coming to Gangotri for many centuries, but secular tourism was introduced in the 1970s.
Then there is flora and fauna in that area. There are wild mountain goats, known locally as badal. Earlier the badal were scared of humans, the tourists and the pilgrims. But after the area became a national park, the goats got used to people, and now they come quite near the tents of campers.
There are also weasels, brown bear, and also snow leopard. They used to be rare, but recently we have even sighted them in the plantation area where I am working.
Among the wildflowers are Androsace villosa and Saxifraga flagellaris.
If you look at pictures of Gangotri taken by Mr. Samuel Burn in 1866 and by Mr. Spark in 1877, you can see only a small temple; the rest is forest, and a river flowing through it. By 1993, many building had sprung up. Earlier the buildings had rooftops of wood, but after the 1991 earthquake, there were many tin shed. By 1993, there was a helipad, and helicopters landed there.
By 2010, the whole area was covered with buildings. There's too much pilgrimage and too much tourism.
The huge crowds of visitors had adverse effects on the region. Garbage was littered everywhere along the trail and campsite areas, there was deforestation, juniper and other bushes were burned, and the birch forest was getting disturbed. Pilgrims were cutting the birch branches for walking sticks. They were used for trekking on the way up to Gaumukh, and thrown away on the way back.
Grazing too caused damage; new seedlings and saplings were disturbed by the hooves of the horses and ponies used as pack animals.
The asthetic impact included dhapas, small teashops; all along the 18 kilometer trail to Gaumukh there were 24 teashops on the way, burning local wood and spreading litter.
At Gaumukh, the snout of the Gangotri glacier, a huge unmanaged crowd gathered every day. They used to bathe in the river, then collect the holy water and take it back home in tanks. This how things were going on in the name of pilgrimage and tourism. So my friend Mr. Athar Singh Johan and I decided to do something in that area. We started with garbage cleaning, eco-awareness campaigns in Gangotri, Gaumukh and even Uttarkashi also, and we decided to restore the birch forests and indigenous flora. We couldn't find those plants anywhere in the forest nurseries, so we decided to start our own nursery. Our campaign started in 1989, and the nursery work started in 1992, and in 1996 our saplings were ready to be planted.
We brought groups of students up to the mountain, carrying banners with slogans, making our points with dancing, conveying the message that we have to keep this area clean and attractive, to maintain the ecological balance of that area so that more and more people can enjoy.
We established our nursery at a place known as Chirbasa, around 3600 m. We thought firstly of using vegetative propagation, taking cuttings and planting them. We succeeded with willow (Salix babylonica) and poplar (Populus ciliata), but we failed with birch cuttings, so we decided to collect seeds from the natural forest, sowing them in the soil, and replanting the saplings later.
Apart from these three species, I decided we should go for planting and protecting some traditional herbs also. We have grown Atis (Aconitum heterophyllum), Archa (Rheum emodi), the very rare orchid Salam panja (Orchis habemioides), and Kutki (Picrorhiza kurroa). These four medicinal herbs we are cultivating in our nursery, but as it is in the national park area we can't extract all them for sale or use outside, but at least we have proved that they can be grown with human effort. Naturally they grow on the high Himalayas, but we can cultivate also.
Our birch plantation is in Bhojbasa. "Bhoj" is the Hindi name for the "birch"; "basa" means the place where the bhoj is there. But slowly with the continuing pilgrimage and tourism, all the bhoj trees were cut and used as fuelwood. You can still see a few old birch trees, dead wood still standing there. A few are up very close to the snout of Gangotri glacier. Due to the pilgrimage and tourism, all the bhoj trees were cut and used as fuelwood. We found a plot of slanted land behind and below a tourist bungalow that would be useless for camping or other activities. Earlier there were trees there, but they were cut, so we decided this would be a fitting place to plant our trees. We had to get permission, because it's a national park area, and we can't do anything without the permission of the forest department. So right from the nursery raising and the eco-awareness campaigns everything had to be done with due permission of the National Forest department. They gave me permission to do the plantation project on twelve hectares of land within the national park. At present we have two successful plantation areas, one behind the tourist bungalow and another one and a half kilometers further on, closer to the snout of Gangotri glacier. Since the climate is very cold around 3700m and 3800m, the elevations of our plantations, so the trees grow slowly. The growing season is from the end of April till September or October. The trees require a lot of care, especially watering, because the soil is quite sandy. At Bhojpasa wee collect water in tanks we have made by lining pits with polethylene sheets; the water is piped from the local stream, one and a half kilometers away. Sometimes a heavy rainfall takes place and the whole thing goes off. So there are risks in doing this work, but still with the help of my friends who are working with me, the work continues. At the Gaumukh site, the altitude is too great for Salix and Populus, but the birch is doing well. We fertilize the young trees with cow dung that we collect below Gangotri -- just organic manure, no chemical fertilizers. And we have to protect the saplings from browsing by mountain goats. Some people have raised the point that I am doing this in an area that is properly alpine, above the natural treeline. But there are a few older trees remaining, as well as dead wood, proving that there were once natural forests here. My original trees are now taller than me so I am very happy.
My dream was to work for the women and with the women, and it is going to materialize. Because when this Mountain Legacy Medal was announced, I was in touch with Mr. Sicroff, we were exchanging emails, and we thought why don't we work for the women, help women network and start mountaineering clubs. Because what I feel is that in all Asian countries and especially in the Himalayan countries, the mountain people and especially the women, they are not in very good shape. Exceptions are everywhere, but when we talk about the majority of the womens, their conditions are not very good. These are born mountaineers, so why don't we train them, give some skills to them, and once the skills are given, they can do the mountaineering, they can organize their travel business, they can do many things. Alone I can't do it, but I'm sure if Mountain Legacy and other people also collaborate, certainly we can launch this project, Mountain Power, a network of women's mountaineering clubs in schools and colleges, throughout the Himalayan region, and eventually worldwide, if we succeed. We'll put together our energies and our efforts to make it a reality.
What are the goals? The underlying concept is sport for development and peace, and the aim is to build highland-lowland cooperation among women for challenging recreation, responsible tourism, health, entrepreneurial leadership, and sustainable stewardship of the natural and cultural legacy of mountains. Historically, whatever we are do, firstly we tend to go haphazardly, we spoil things, and only then do we start thinking about what's gone wrong. So instead of messing up as we have in Gangotri and then trying to reverse the damage, why not start with a holistic sustainable vision of where we want to go? Then we can put our efforts together, we can conserve nature, we can conserve culture, we can ensure the health of the mountains, of mountain communities, not only for the sake of the mountain people and the area, but for the whole world. We can make it a place where people would love to come time and again. And we have to improve the lot of the women.
We are looking forward to your kind support for this project, because we can't do it all alone. Anybody whosoever is intereste to join with us, I request please contact either Mr. Sicroff or Mr, Kumar Prasad Mainali, or me. And if you people are going to help us, our dream will certainly become reality.
I am here because I was told that I am going to get this recognition, and it is a great honor for me. The legendary work of Edmund Hillary in Solu Khumbu inspired me to undertake my own work in the Gangotri-Gaumukh area. That area also gets a lot of exeditions, a lot of pilgrims and tourists. So I got the inspiration from Edmund Hillary, and today I am standing here to represent his legacy. What a proud moment for myself! It's a proud moment in my life. And I thank Mountain Legacy for honoring me, for inviting me here, and I thank Peter Hillary and Mountain Legacy, Mr. Mainali. I'm thankful to ICIMOD -- that's not a new name to me. I have been in touch with ICIMOD for many years, and I attended one of the Himawanti conferences in Nepal, organized by ICIMOD. I am thankful to David Molden, sir, for giving me this opportunity to be here, in such a beautiful compound as your ICIMOD. I am thankful to Ms Sue Badyari, CEO of World Expeditions, for appreciating my work, and I'm a great admirer of her for her Responsible Tourism. And for this honorarium given by the CEO and the World Expedition people, I am thankful to you, Madame. And I am thankful to the Radisson for giving me wonderful, beautiful facilities there. I am thankful to all of you for giving me this patient hearing. What I have done, I was doing it in a corner, a remote mountain area, but you people gave me an opportunity to stand in front of all of you, this august gathering, narrating my efforts. It wasn't always very easy to do this work. Sometimes going from Gangotri and reaching Jeba Sanko Bazar in heavy downpour, with the bridges washed out... Coming back again to my college was really difficult, because there were no bridges. At times gaining permission to work in the national park was a very difficult task for me. So, having overcoming all these difficulties, finally I am standing here and all of you recognizing this work -- it's a happy moment for me. I am thankful to all of you. And once again I thank you for giving me this special hearing, and giving me an opportunity to speak about the work what I am doing in a very isolated corner of Himalayas in Garhwal Himal. Thank you.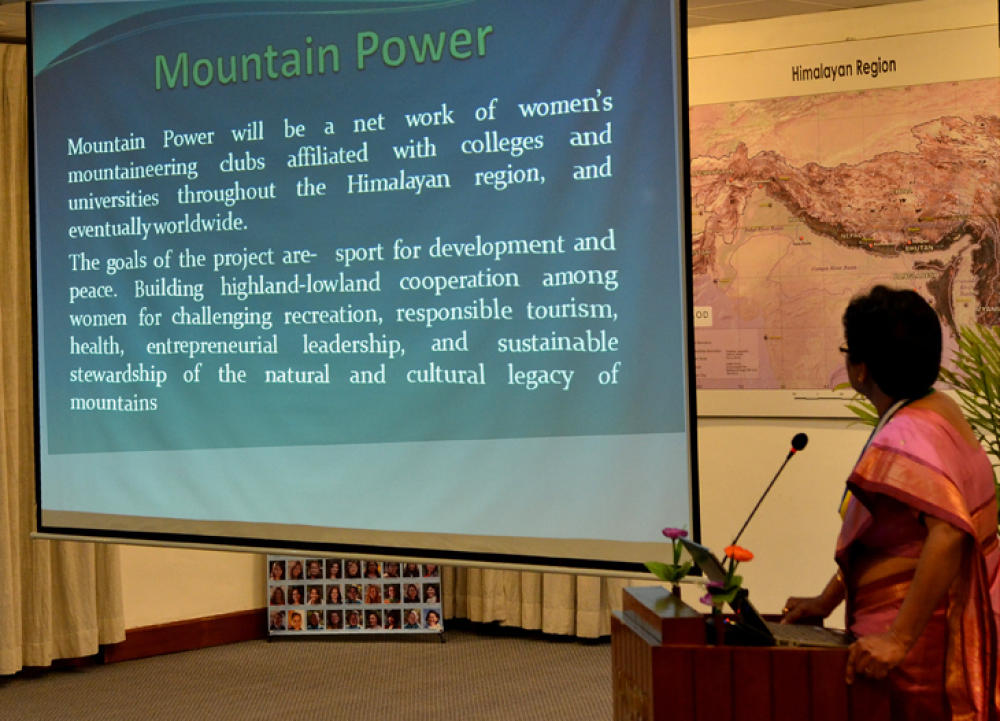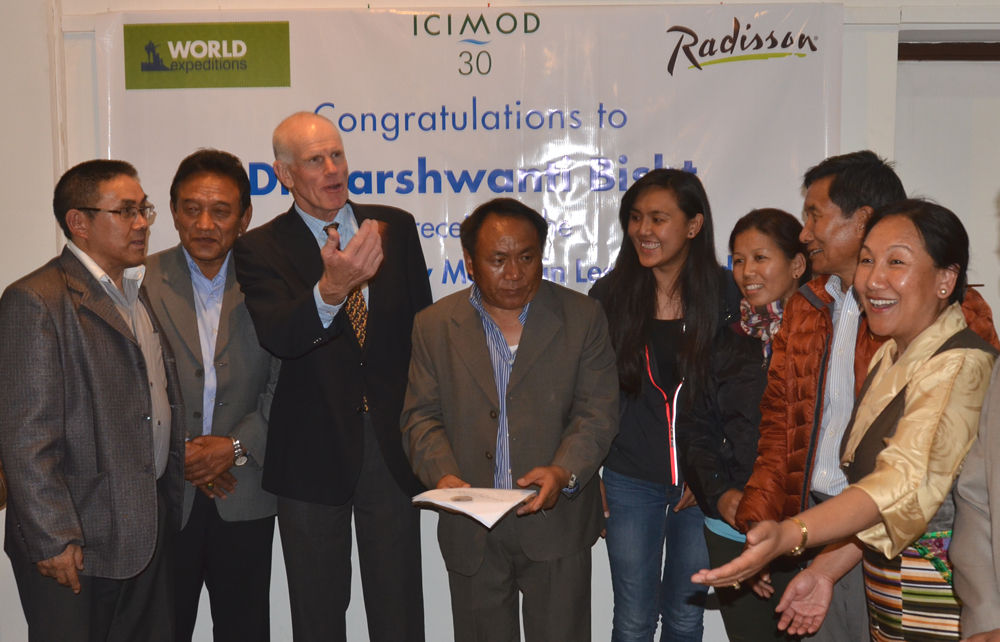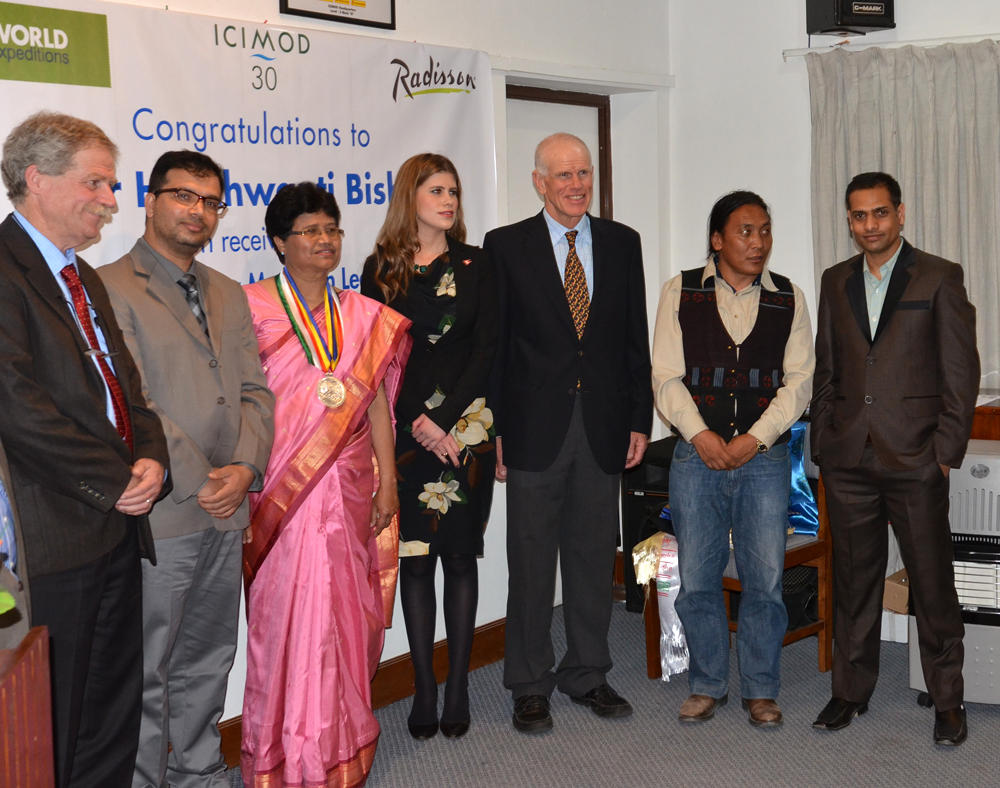 Left to right: Dr. David Molden, Director General of ICIMOD; Kumar Mainali, President of Mountain Legacy; Dr. Harshwanti Bisht; Amelia Hillary; Peter Hillary; Tenzin Norbu, creator of the image featured on the Hillary Medal; Sumar Sharma, proprietor of Sunrise Pashmina Nepal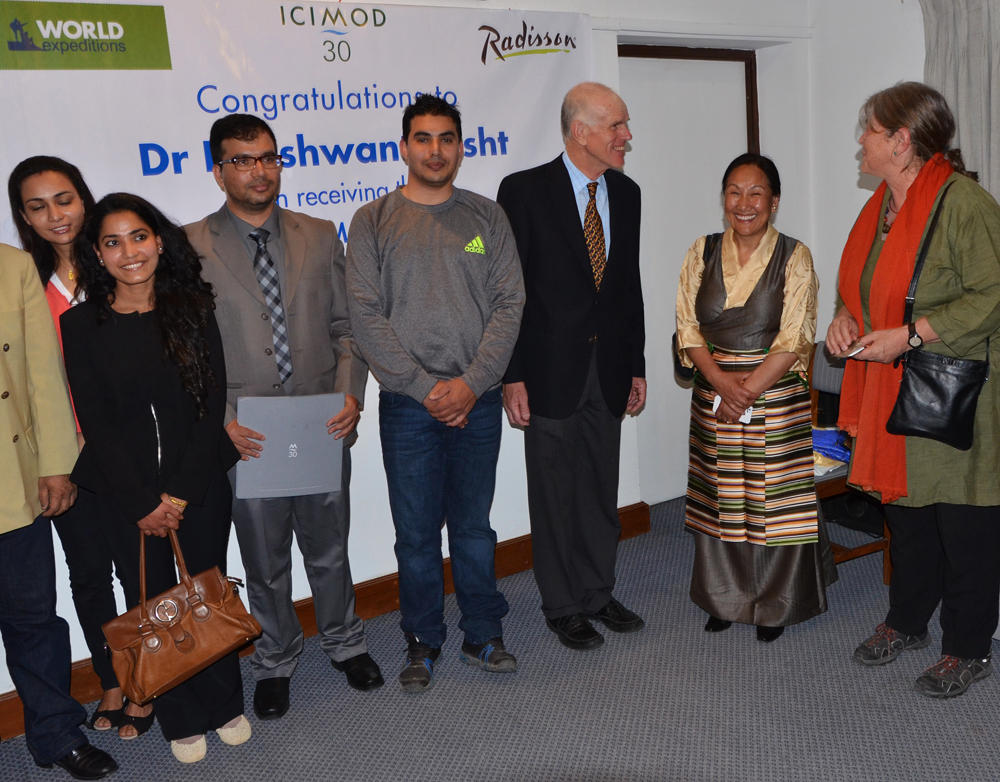 Left to right: Srizana Chudal, Jyoti Mainali, Kumar Mainali, Yogendra Mainali, Peter Hillary, Purba Sona Sherpa (widow of late Mingma Norbu), Frances Klatzel